"Want Training for Effective Living"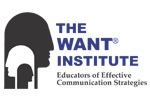 Dr. Allen teaches you how to add powerful and lasting direction to your life and relationships by simply learning how to ask for what  you want and saying "no" to what you don't want, using her rational non-threatening system to communicate with integrity.  Her system for personal growth uses Androgynous Semantic Realignment (a cognitive behavioral modification technique) to repair negative language habits.  Because we think in words, changing those words changes how we think, and directly affects how we live.  With six clear, concise lessons Dr. Allen will train you how to use words as tools to get what you want out of life, to communicate lovingly, to confront both men and women in a respectful and cherishing manner, and to achieve fundamental self-esteem and restore physical and mental health:
Want Training Topics:
1.  How to make decisions rationally, Not emotionally.
2.  How to speak rationally and assertively.
3.  Handle emotional confrontation rationally.
4.  Re-Direct and restructure negative habit patterns positively.
ONE DAY CLASS
Location: 901 Dove St. Suite 150, Newport Beach, CA. 92660
Cost: $150.00
Time: 9:00 am to 4:00 pm
Class Dates: Saturday, May 4, 2019
Click HERE

to "Purchase Your Ticket" and Reserve your spot!
Limited to 6 attendees per class**
These classes are non-refundable, I will do my best to resale your spot for refunds when notice is after 30 days.  
For further information or questions,
Please contact Sue Wagner
949-723-0338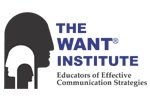 Note:  The Institute is a recognized 501(c)(3) Educational and Charitable Organization, and all monies tendered to the Dr. Pat Allen WANT® Institute are tax deductible. We recommend you consult your tax professional for further information.
**

course meets the qualifications for 7.0 hours of continuing education for MFCC's, LCSW's and Nurses as required by the Calf. Board  Behavioral Science. Provider #CPE243