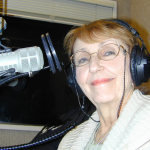 ON the AIR" Dr. Pat Allen
Empowered Communications!
LA

Talk radio Thurs.
4:00pm – 6:00pm PST
Dr. Pat Allen, an expert in the fields of relationships and effective communication has been wowing audiences in Los Angeles area for over 40 years. Dr. Allen gives her talk to an audience of fans and skeptics, and she wows with her Avant garde style, political incorrectness, and the hard truth about ourselves and our relationships, getting laughs and even tears along the way.
Dr. Allen has 42 years to hone her craft by helping men and women learn to express their wants and needs with integrity and honesty, and to recognize and avoid the damaging ploys of intimidation and seduction. Dr. Allen is often heard saying "Some of the things I teach about male/female relationships have often been called politically incorrect.… but they are scientifically accurate. And they work." And if her success rate according to her clients is the measurement then what she does really works!
You can Call in and sit in Dr. Allen's radio show hot seat!
Get your questions answered at:
Join us on Thursday nights 4:00 to 6:00pm PST
Call in at 323-203-0815 at 4:00 pm!
Go to Home page link,
Channel 1 and press listen live symbol
Dr. Pat Allen "On the Air" Empowered Communications
(Click above link for archive recordings)
"Life is a gift; my life's goal has always
been to give something back."